November in Gaza: 105 killed, 353 injured, 52 left handicapped for life
Ma'an News
November 22, 2006

Gaza - Ma'an - 105 Palestinians have been killed in the Gaza Strip since the beginning of November, Palestinian medical sources have reported.

The emergency and first aid department in the Palestinian ministry of health reports that 31 percent of the victims were children. Of the 105 killed, 14 were women.

In addition, since the start of November, 353 Palestinians have been injured, of whom 32 were children.

With these numbers, the Palestinian death toll since the start of the Israeli military campaign to release the captured Israeli soldier, Gilad Shalit, reaches 400, just in the Gaza Strip. In addition 1,853 Gazans have been injured. Of this number, 742 were treated in the field and 750 will be handicapped for life as a result of their injuries. 133 of the 750 handicapped cases have lost a limb.

52 Gazans have been rendered handicapped for live since the start of November.

At the end of June 2006, armed Palestinian factions captured Cpl Shalit in a raid on an Israeli military base south of the Gaza Strip. In retaliation, the Israeli army launched a brutal campaign code-named 'Operation Summer Rains' on the Gaza Strip, during which the army bombarded and destroyed much of Gaza's infrastructure including Gaza's main electricity plant.
(Source:Ma'an News / link )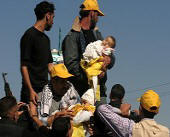 Palestinians carry the body of one-and-half year old Maram al-Athamneh, killed together with her family, as the Israeli army shelled their house yesterday, during her funeral in the northern Gaza Strip town of Beit Hanoun November, 9, 2006.
News & Articles
The only way out
Dr. Mustafa Barghouti - Al-Ahram
May 17, 2006
The Democratic Revolution in Palestine
Dr. Mustafa Barghouthi
January 11, 2006

Mustafa Barghouti - Al-Ahram
October 1, 2005
Make sure 'gaza first' is not 'gaza last'
Mustafa Barghouthi - International Herald Tribune
August 19, 2005